Wait!  Before you mow down those dandelions that your have growing in your back yard, check out our quick and easy recipe for a sweet and tangy dandelion tea.  It's lightly sweet, has a touch of citrus, and a delicate dandelion flavor.  It's all of the goodness of spring and early summer wrapped up in a pitcher – the recipe is simple, fresh dandelion blossoms, lemons, limes, sugar, and water.  You can substitute in your favorite sweetener and replace the sugar. 
Jump to Recipe
Before we get started on this recipe, did you know that dandelions aren't actually a weed, but they are actually a delicious herb and they are completely edible? In fact, every single part of the dandelion is edible, roots, stems, leaves, and flowers. These sunny little flowers are abundant in the spring, they're great for your health, and have some amazing benefits – to name a few, they're known to help soothe minor digestive problems, reduce water retention, and help relieve inflammation. If you're interested in learning more about dandelions and how to harvest them check out our post – Harvesting and Preserving Dandelions: Roots, Leaves, and Flowers.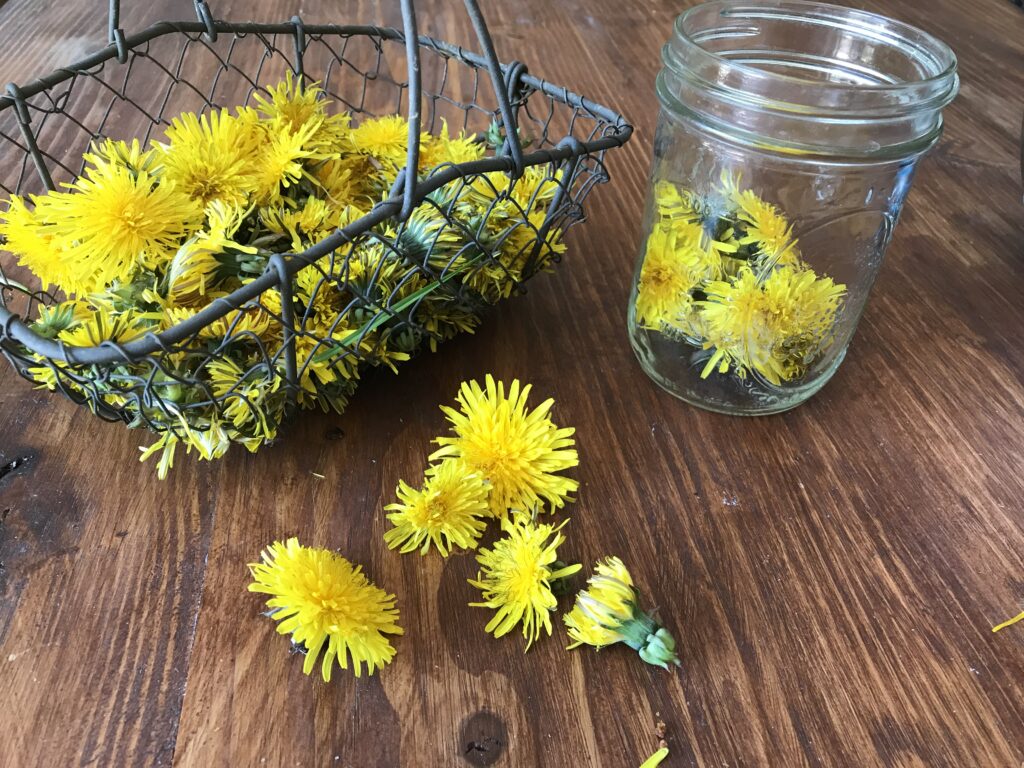 Ingredients:
1-quart freshly harvested dandelion blossoms
1 cup hot water
1 lemon
1 lime
1/3 cup sugar or honey, maple syrup, or stevia

You can adjust sugar quantities based on your personal taste

1-quart ice
1-quart water
Recipe:
Pick 1-quart fresh dandelion blossoms, for this recipe you will use both the yellow flower and the green sepal.
Rinse your dandelion blossoms in cool water. A bit of a warning! Ants love dandelion blossoms, make sure you remove any ants before making this recipe.
In a jar or bowl, pour 1 cup of hot water. We recommend that you use very hot water, but not boiling water. Steeping your dandelions in boiling water can lead to a bitter tasting tea.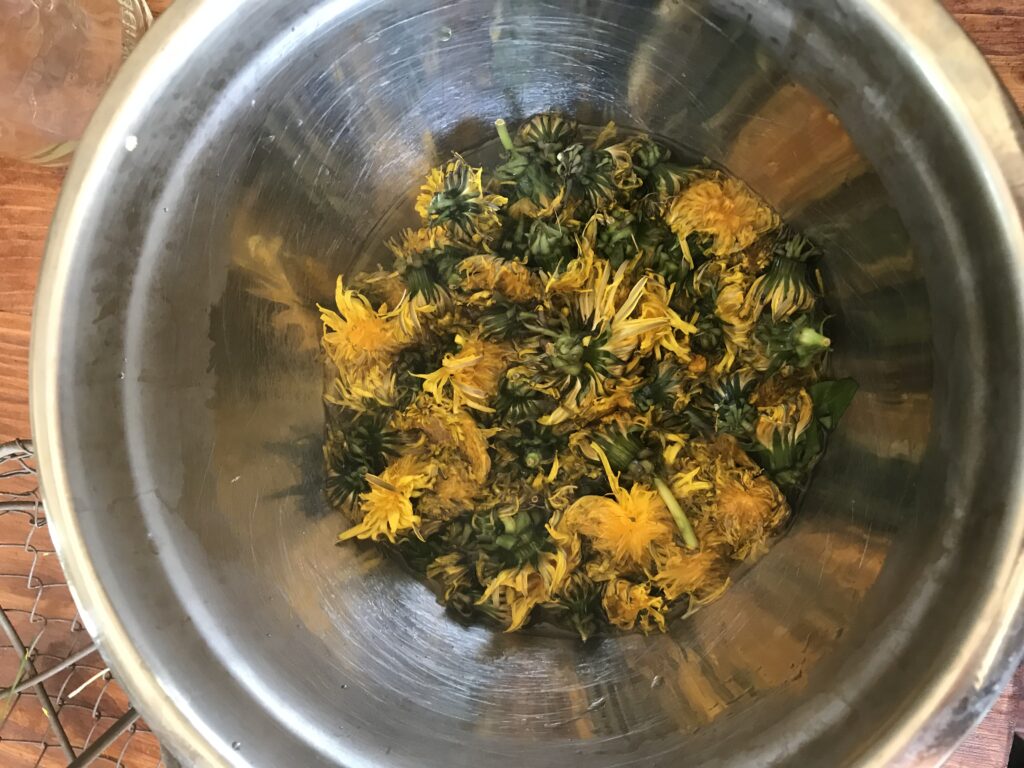 Steep your blossoms for 5 – 7 minutes, then strain off your dandelions.
Add 1/3 cup sugar (or your favorite sweetener) to your dandelion tea and mix well until your sweetener is fully incorporated, followed by your cool water. Feel free to substitute in your favorite sweetener. You can also adjust the amount of sweetener based off of your taste preference – add more for a sweeter flavor or less for a less sweet taste.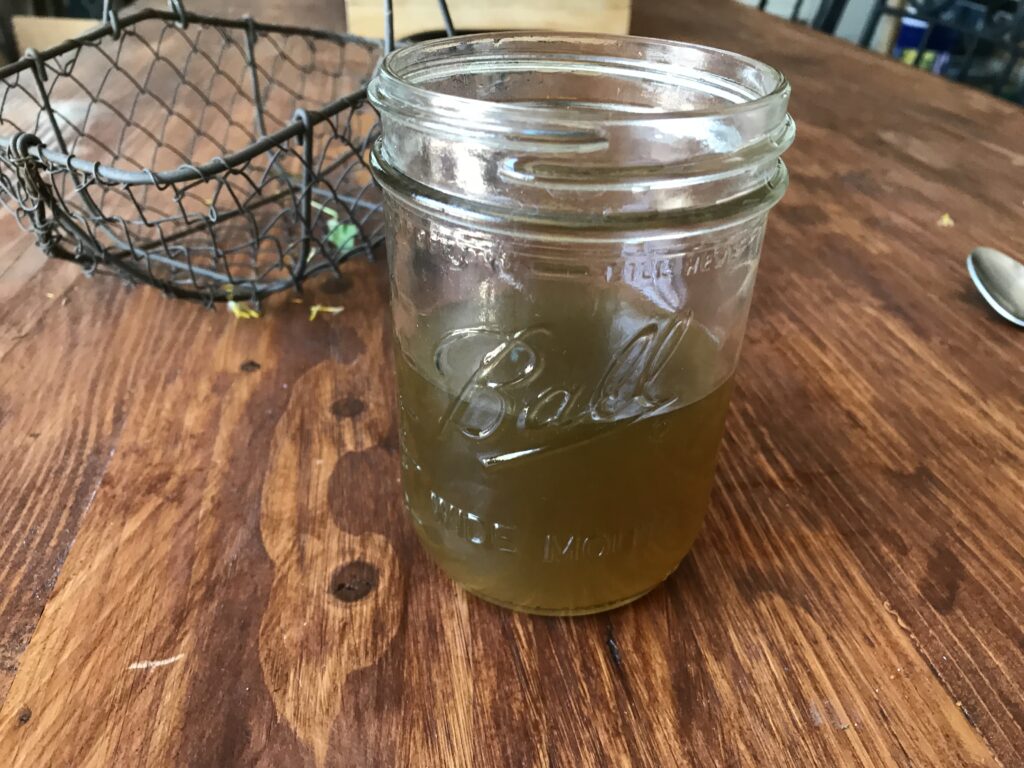 Add the juice of 1 whole lemon and 1 whole lime and ice to your sweetened tea mixture and stir well.
Serve immediately and garnish with fresh dandelion blossoms or refrigerate for up to 36 hours.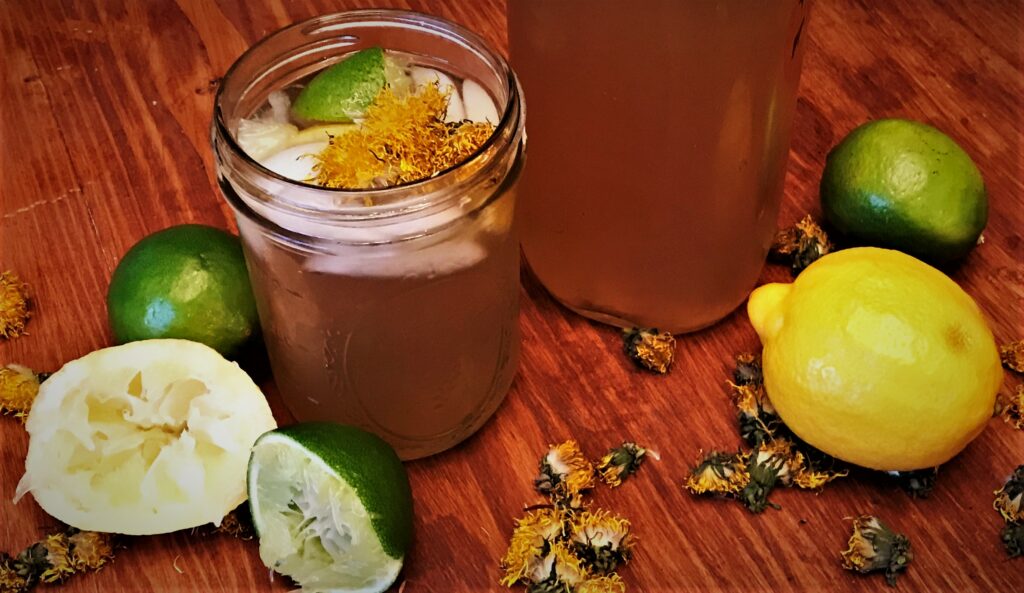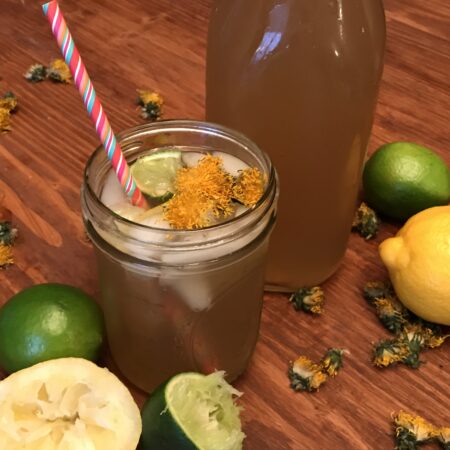 Lemon-Lime Iced Dandedlion Tea
Sweet and sassy, with hits of citrus, and floral notes. This quick and easy drink will be your new favorite spring and early summertime beverage.
Equipment
Kettle

Pitcher

Mixing Spoon
Ingredients
2

quart

Dandelion Blossoms

1/3

cup

Sugar

You can substitute in your favorite sweetener

1

cup

Hot Water

1

quart

Ice

1

quart

Cool Water

1

Lemon

1

Lime
Instructions
Pick 1-quart fresh dandelion blossoms and rinse them in cool water.

In a jar, bowl, or pitcher pour 1 cup of very hot water over your dandelion blossoms.

Steep blossoms from 5 – 7 minutes.

Strain and remove the dandelion blossoms.

To the hot dandelion tea add your sugar and mix until fully incorporated.

Add your cool water, the juice of 1 lemon, the juice of 1 lime, and mix well.

Add your ice, serve immediately and garnish with fresh dandelion blossoms. Refrigerate and use and remaining tea within 36 hours.
Note: Don't harvest and use dandelions from areas where pesticides have been applied, high traffic areas, or from along roadways where chemicals and oil can runoff and contaminate the soil.
While dandelion roots, leaves, stems, and flowers are generally considered safe to consume, they may cause allergic reaction in people who have allergies to, or are sensitive to dandelions, ragweed and other related plants, such as chamomile, marigolds, and chrysanthemums.
Due to dandelions diuretic nature, it's recommended that you consume dandelion products and tea gradually – working your way up to 3 cups daily.
If you're currently taking medications, supplements, pregnant, or if you're breast feeding, please consultant with your physician before drinking dandelion tea. Dandelion tea is not recommended for people with kidney, or gallbladder disorders.
Do you have any tips or recipes for dandelions, or interested in trying your own homemade dandelion tea? Let me know in the comments below.
Until Next Time…
Ashley