I love pound cake.  I'm talking rich, moist, buttery, use up 8 eggs of pure awesomeness.  The type of cake that keeps getting better and better when left out on the counter. 
Pick it up and grab a slice for breakfast, afternoon snack, nighttime snack, or call it a meal, it's that type of pound cake that I love.  The type of pound cake your grandmother made, full of fat and sugar with an extra dash of love.  There isn't a bad time of year to make and eat a pound cake, however,  I particular love it in June.  For us in our zone 5, upstate NY garden, June is the time of year when the strawberries are in full production.  A slice of pound cake loaded up with fresh strawberries and homemade whipped cream, yep.  That's what I'm talking about.
To sum it up in one word – Delicious.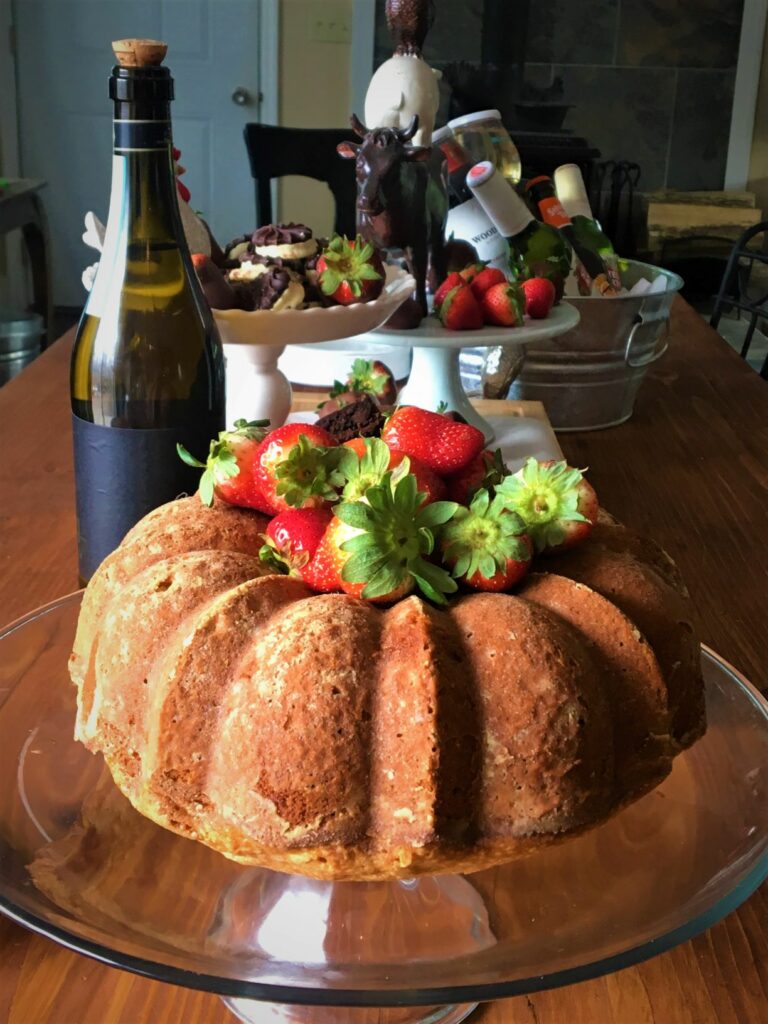 Pound Cake Origins
Pound cake gets its name from the traditional way that it was prepared – a pound of butter, a pound of eggs, a pound of flour, a pound of sugar. It's simple, elegant, and can be dressed up or dressed down in countless ways. Prepare it in a Bundt pan or a loaf pan, dust it with powdered sugar, drizzle it with a sweet glaze, add citrus zest, change up the extract, or add fresh fruit. It truly is a versatile cake that can be made to suit any palate and made for any gathering.
One of the other great things that I love about pound cake is that it travels really well. I don't think there's a party, event, or gathering that I've gone to that I haven't either brought a pound cake or thought about bringing a pound cake. Unlike traveling with pies, cupcakes, or an iced cake, there's no icing to squish, delicate crust to break, and little chance you'll smash it. We usually just put it on a serving platter and give it a quick wrap with a clean dish towel and pop it into the back seat of the car.
Not only do I love pound cake, but for generations it's been a beloved cake. Food Historians believe that the origins of pound cake lies somewhere in northern Europe and that pound cake dates back to the early 1700's! A quick google search will yield dozens and dozens of recipes and dozens of variations. Even the first known American cookbook (American Cookery, by Amerlia Simmons), which was published in 1796, has a recipe for pound cake. It truly is a popular cake that isn't going to fall out of fashion any time soon.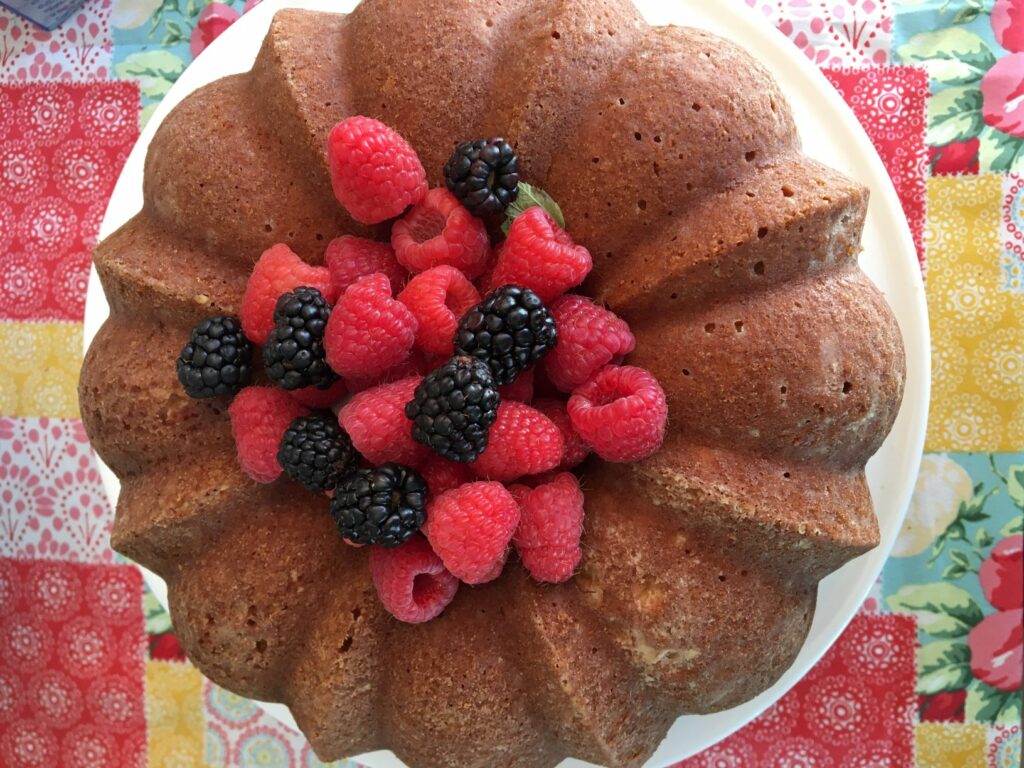 Making your Pound Cake
If you've never made a pound cake, don't hesitate, now's the time. It's easy to make, It's versatile, it's simple, it keeps really well (if it lasts that long), it travels well, it's delicious, and you're going to love it.
The other great thing about pound cake, it uses up a goodly amount of eggs. If you have chickens and they're anything like ours, you get to the point where you feel like you're drowning in eggs and you're always looking for new ways to use them.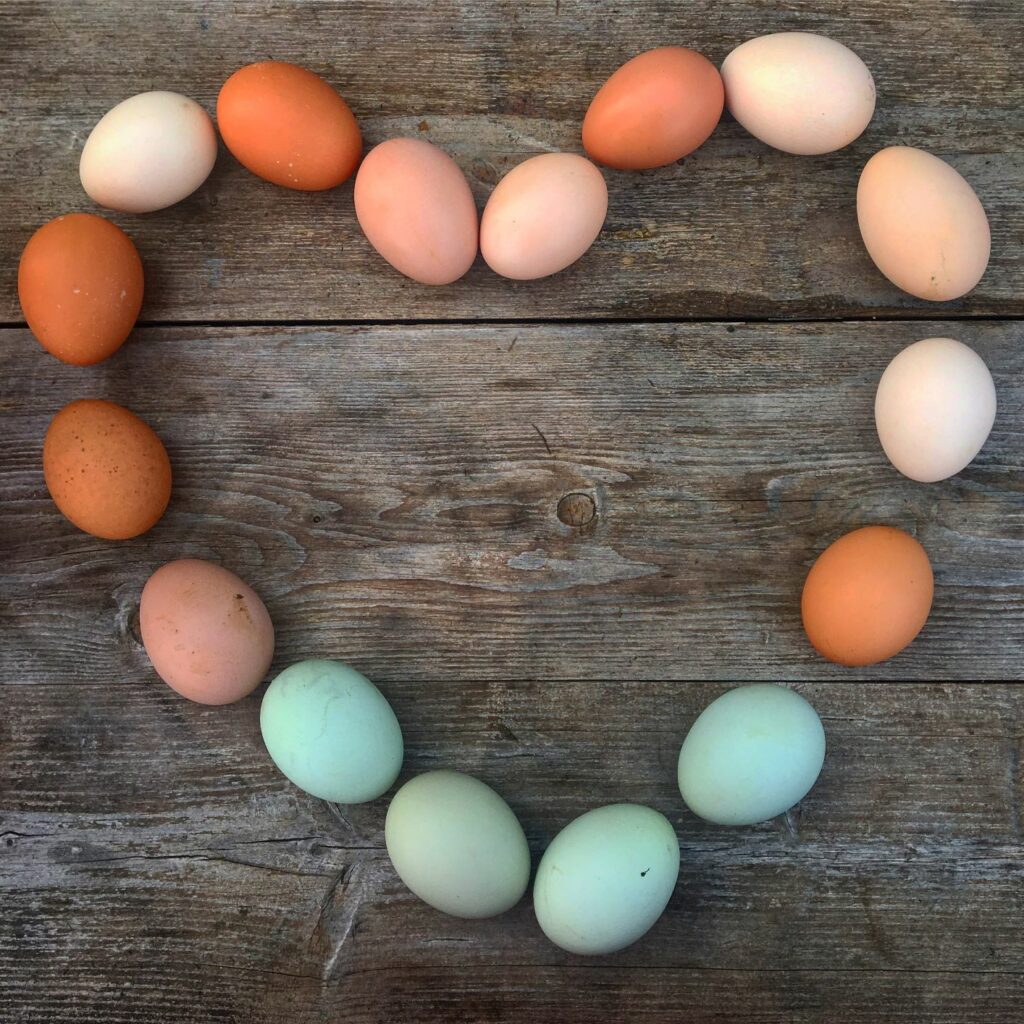 The ingredient list is simple, flour, sugar, eggs, butter, pure vanilla extract, and heavy cream. Since it's a heavy thick batter we prefer using our kitchen aid counter mixer. If you don't own one, I highly recommend purchasing one. Our Kitchen Aid is truly a workhorse in the kitchen and something that we use multiple times a week. Our Kitchen Aid was the first major purchase that I made when I graduated from college. At the time it was a hefty investment, but something that I new I would frequently use and have for years to come.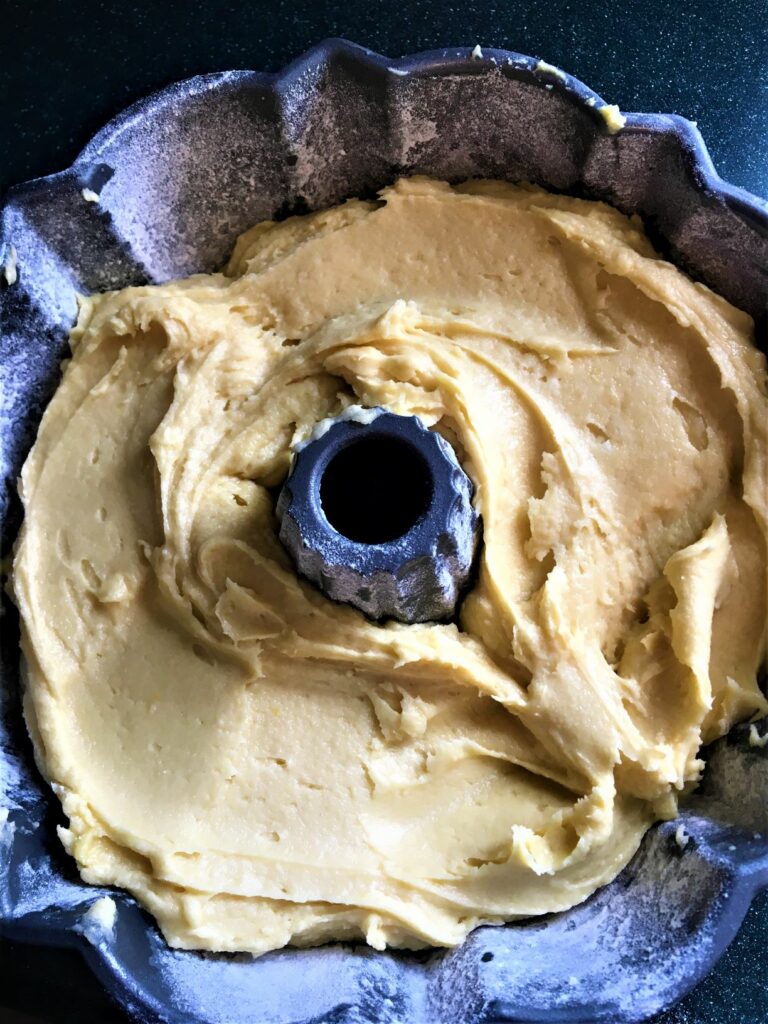 Baking Tips
Before you get started, here are a few tips for baking your best pound cake. Don't pre-heat the oven. Starting with a cold oven will result in a dense and rich pound cake. For best results you will need room temperature butter and eggs. Take your eggs and butter out of the fridge at least 1 hour prior to baking. We like to use heavy cream in this recipe – if you don't have it, no worries. The recipe isn't overly fussy and you can change it up. Cow or goats milk will work just fine. The addition of the liquid helps to slightly thin the batter and ensure that the flour is fully incorporated. No one likes lumpy cake – you want your pound cake to be dense, with a tender bite, and small crumbs.
Our Best Pound Cake Recipe:
1 lb. butter
3 c. sugar
4 c. flour
8 eggs
3/4 c. Heavy Cream
1 tbl. pure Vanilla extract
Using your stand mixer with a paddle attachment beat the butter on medium speed until it's smooth and creamy. It will fluff slightly and become lighter in color. Add the sugar and beat on medium speed until the sugar is fully incorporated into the butter and it is light and fluffy.
Add the vanilla extract, and add one egg at a time to the butter and sugar mixture – incorporate each egg before adding the next. This will only take a few turns of the paddle to incorporate the egg.
With your mixer on low, slowly add your flour and alternate with heavy cream. The batter will be thick. Mix until the ingredients are combined and smooth. Do not overmix, this will result in a tough cake.
Pour your batter into a generously greased and floured pan. I cannot stress this enough, make sure it's well-greased and floured, otherwise you will struggle to get your cake out of the pan.
Bake your pound cake at 325 degrees F for approximately 1 hour and 25 minutes, or until done. Insert a clean skewer into the cake, when it comes out clean remove your cake from the oven. The top should be a golden color and slightly cracked, it will result in a delicious crust. Cool your pound cake on a wire rack for 20 minutes then invert on a serving platter to cool completely.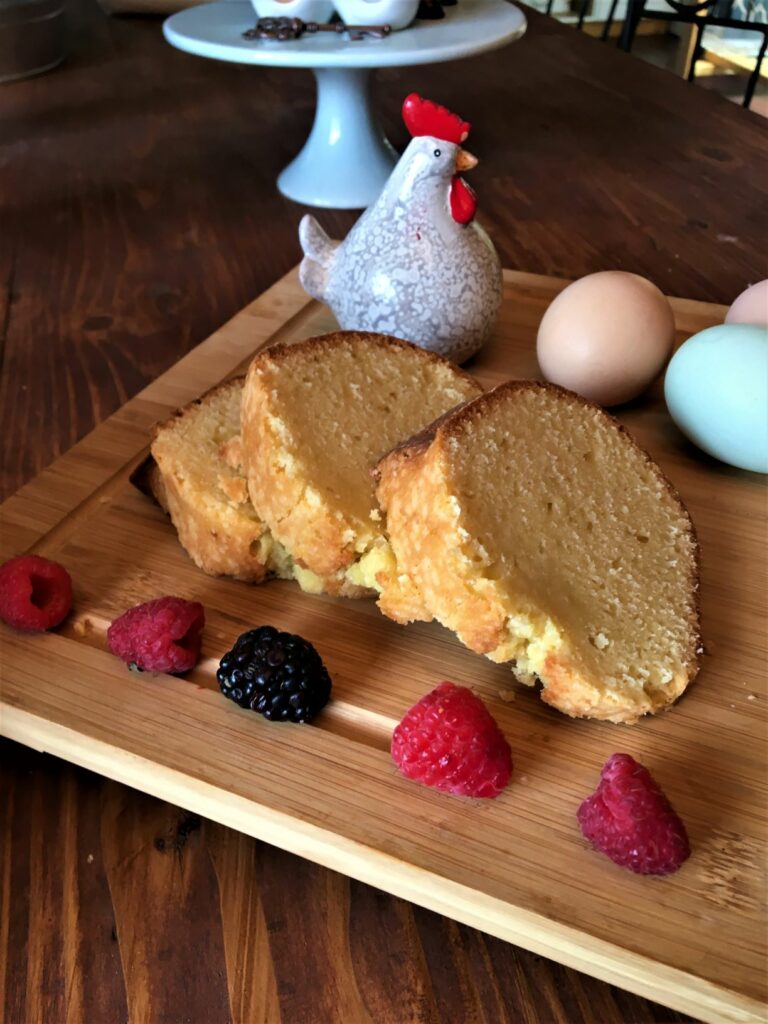 Serve with freshly whipped cream, fresh berries, ice cream, or powdered sugar. This cake is sweet and delicious even if you decide you'd prefer to eat it plain!
What's your favorite way to eat pound cake?  I love it with fresh summer strawberries and a heavy dollop of cold homemade whipped cream!  I also enjoy taking it plain as a grab and go meal in the morning.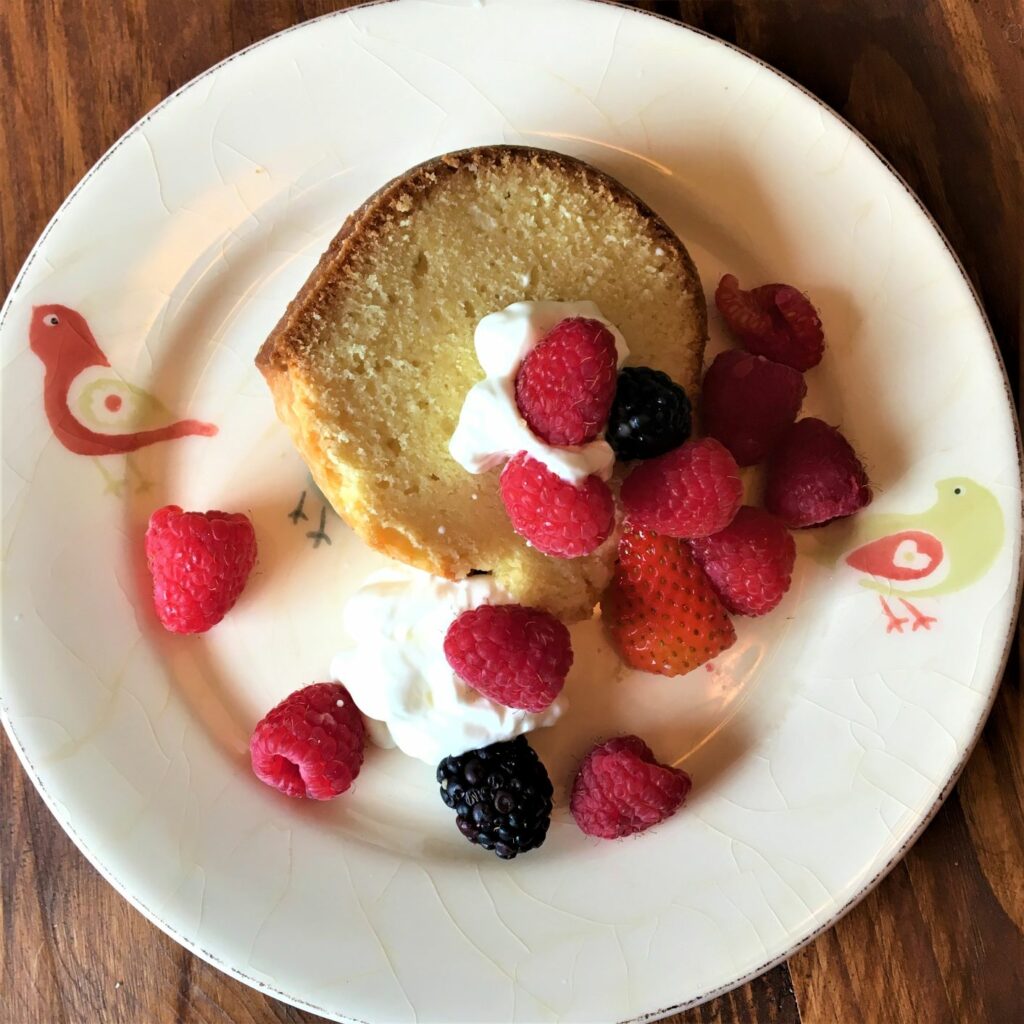 Until next time…
Ashley