One of my favorite summertime treats is a no-bake strawberry Jell-O pie.  It's sweet, tart, refreshing, wrapped up in a graham cracker crust, and perfect for a hot summer day.  Made with fresh strawberries it's got that classic taste of summer.  Since this is a no-bake recipe, it's perfect for the summertime when you don't want to turn your oven on.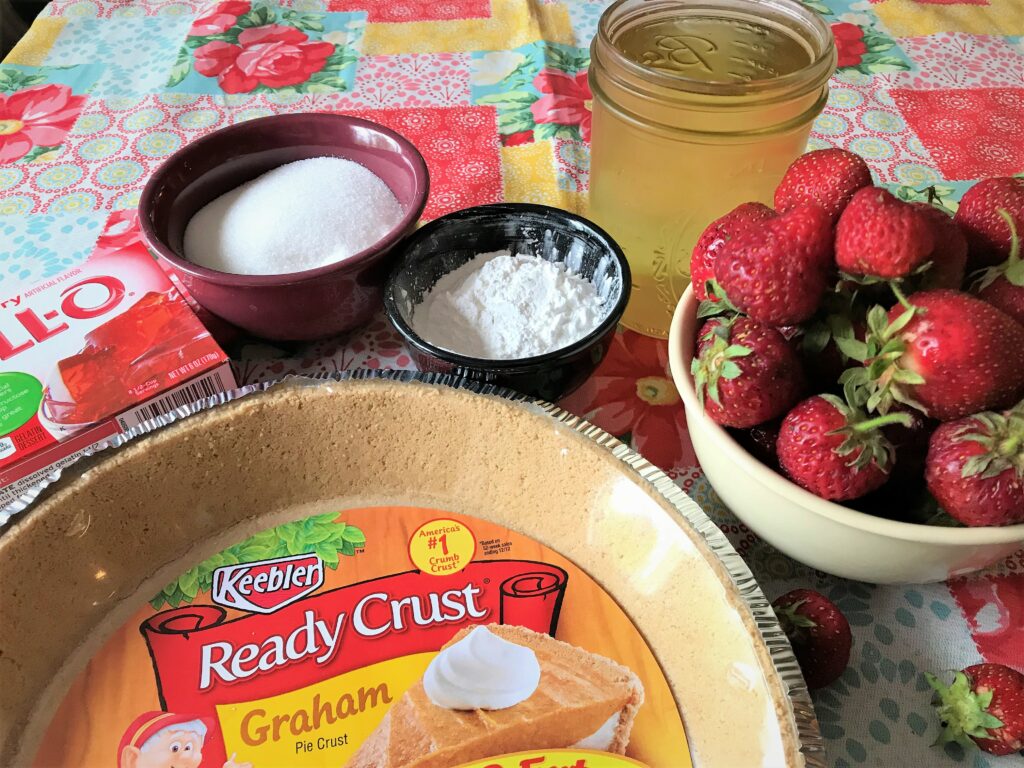 Ingredients:
1/3 cup cornstarch
1 cup sugar
2 cups apple juice
1 box (6 oz) strawberry Jell-O™
3 cups slice strawberries
1 10-inch graham cracker pie crust
Whipped cream to top
Instructions:
Line the bottom of your pie crust with slice strawberries. If using smaller strawberries, we recommend facing the pointed end up. If using larger berries, slice in half lengthwise.
Combine the cornstarch, sugar, and apple juice in a small saucepan. Over medium heat, stirring constantly, heat mixture until it begins thick and smooth, approximately 3 – 5 minutes. Add the strawberry Jell-O to the thickened mixture and stir until dissolved.
Remove the mixture from heat, allow to cool slightly, approximately 15 minutes, and pour the gelatin mixture over strawberries and refrigerate until set.
Slice, serve, and top with fresh whipped cream.
Without fail, my mother made this pie for us every single summer.  One bite and it takes me back to my childhood – warm summer evenings spent capturing fireflies, summer days that seemed to stretch on forever, and family meals around the kitchen table.  This quick and easy recipe is sure to be a favorite amongst your family and friends, one that you'll make for years to come! 
Let me know in the comments below what your favorite summertime treat is.
Until Next Time…
Ashley