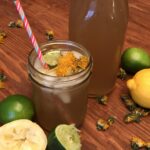 Print Recipe
Lemon-Lime Iced Dandedlion Tea
Sweet and sassy, with hits of citrus, and floral notes. This quick and easy drink will be your new favorite spring and early summertime beverage.
Kettle

Pitcher

Mixing Spoon
Pick 1-quart fresh dandelion blossoms and rinse them in cool water.

In a jar, bowl, or pitcher pour 1 cup of very hot water over your dandelion blossoms.

Steep blossoms from 5 - 7 minutes.

Strain and remove the dandelion blossoms.

To the hot dandelion tea add your sugar and mix until fully incorporated.

Add your cool water, the juice of 1 lemon, the juice of 1 lime, and mix well.

Add your ice, serve immediately and garnish with fresh dandelion blossoms. Refrigerate and use and remaining tea within 36 hours.